Jonathan Schulman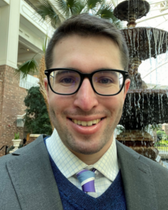 Scott Hall 228
Office Hours: We 12:00 - 2:00 and by appointment
Program Area(s):  Methods; Experimental Methods; International Relations
Dissertation Title:
Falling Behind: How Americans' Anxiety over Status Affects U.S. Foreign Policy
Dissertation Committee:  Nelson, Stephen C (Chair); Krcmaric, Daniel; Druckman, James; Wohlforth, William
Research Interests: American foreign policy; public opinion; status, prestige, and reputation in international politics.
Jonathan is interested in American foreign policy and the role of public opinion and social mobilization (in the US and abroad) in affecting foreign policy outcomes. His current research focuses on the domestic determinants of US foreign policy, including how Americans formulate foreign policy preferences from trade preferences to attitudes towards military interventions.
Publications:
Presentations:
"Needing to Be the Best: How Worries Over World Position Drive State Interest.", International Studies Association, April 2022

"Fear of Falling Behind: How Global Status Concerns Affect Support for Domestic Policies.", International Studies Association, March 2022

"

The Self, the Nation, and Geopolitical Status: An Analysis of Americans' Trade Preferences.", International Studies Association, April 2021

"Second-World Competition in Vietnam: Analyzing the Implications of the Vietnam War on Sino-Soviet Relations.", The Ohio State University Denman Undergraduate Research Forum, May 2018
Honors & Awards:
American Political Science Association Summer Centennial Center Research Grant, 2022
Minar Memorial Summer Award, 2022
Back to top