Weber Lecture
The Department of Political Science hosts an annual speaker series in honor of the late Admiral Alban 'Stormy' Weber. The gift by Admiral Weber brings to campus a speaker of note from public service and academia, to address comparative government and the United States' role in the world. The evening is a notable event on the Department's calendar of extracurricular activities, and draws a large audience of students (both undergraduate and graduate) faculty, staff, and the general public. The speakers are consistently people of great accomplishment, experience, and passion, and they come to campus with the objective of passing on their insight to students and others in Political Science.
2018-19 Weber Lecture
Thursday, May 16, 2019 at 5:00pm  
Former U.S. Ambassador to Russia Michael McFaul
From Cold War to Hot Peace: An American Ambassador in Putin's Russia
RSVP via EventBrite here to attend.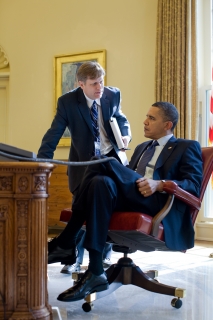 Michael McFaul is the Ken Olivier and Angela Nomellini Professor of International Studies in Political Science, Director and Senior Fellow at the Freeman Spogli Institute for International Studies, and the Peter and Helen Bing Senior Fellow at the Hoover Institution, all at Stanford University. He was also the Distinguished Mingde Faculty Fellow at the Stanford Center at Peking University from June to August of 2015. He joined the Stanford faculty in 1995. He is also an analyst for NBC News and a contributing columnist to The Washington Post. McFaul served for five years in the Obama administration, first as Special Assistant to the President and Senior Director for Russian and Eurasian Affairs at the National Security Council at the White House (2009-2012), and then as U.S. Ambassador to the Russian Federation (2012-2014).
He has authored several books, most recently the New York Times bestseller,  "From Cold War to Hot Peace: An American Ambassador in Putin's Russia."  Earlier books include Advancing Democracy Abroad: Why We Should, How We Can; Transitions To Democracy: A Comparative Perspective  (eds. with Kathryn Stoner); Power and Purpose: American Policy toward Russia after the Cold War (with James Goldgeier); and Russia's Unfinished Revolution: Political Change from Gorbachev to Putin. His current research interests include American foreign policy, great power relations between China, Russia, and the United States, and the relationship between democracy and development. 
Prof. McFaul was born and raised in Montana. He received his B.A. in International Relations and Slavic Languages and his M.A. in Soviet and East European Studies from Stanford University in 1986. As a Rhodes Scholar, he completed his D. Phil. in International Relations at Oxford University in 1991.
Previous Weber Lectures:
2017-18: Kathryn Sikkink, academic and human rights activist, "Evidence for Hope: Making Human Rights Work in the 21st Century."
2016-17: Honorable Norman Mineta, former US Secretary of Commerce (Clinton) and US Secretary of Transportation (Bush), "National Security and Civil Rights."
2015-16: Cody Keenan, White House Director of Speech Writing for President Barack Obama & WCAS Political Science, Class of 2002
2014-15: Rosa Brooks, Professor of Law, Georgetown Law - "ISIL: Terrorists, Rebel Army, or De Facto State? The Challenge of Violent Non-State Actors."
2013-14: Carne Ross, diplomat and activist, Independent Diplomat – "Independent Diplomat and the Future of Diplomacy."

2012-13: Scout Tufankjian, photojournalist and author

2011-12: Michael Ignatieff, scholar, Kennedy School of Government, Harvard University

2010-11: G. John Ikenberry, scholar, Princeton University

2009-10: Stephen Stedman, scholar, Stanford University - "American Foreign Policy and the Challenges of the 21st Century."