Nicole Patel '06
Foreign Affairs Officer at the U.S. Department of State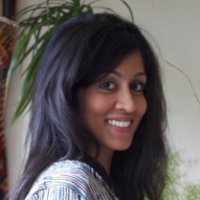 Nicole Patel is a Foreign Affairs Officer at the Department of State, Bureau of International Narcotics and Law Enforcement Affairs, Office of Africa and the Middle East, where she has developed and managed security, justice, and anti-corruption programs in Benin, Cote d'Ivoire, Cabo Verde, Ghana, Guinea, Liberia, Nigeria, Sierra Leone, Senegal, and South Sudan. Previously, Nicole served as Assistant Director of the Buffett Institute for Global Studies at Northwestern University where she developed multidisciplinary international experiential programs for undergraduate students.
Nicole obtained her bachelor's degree from Northwestern University where she studied Political Science and Latin American and Caribbean Studies. She received her master's in International Development Management with distinction from the London School of Economics and Political Science. She was a visiting scholar in the Northwestern University School of Continuing Studies Masters of Arts in Public Policy Administration (MPPA).  Nicole is a 2006 recipient of the William J. Clinton Fellowship for Service in India, a 2011 New Leaders Council Fellow, and a 2013 US Presidential Management Fellow.  She is from the Chicagoland area and speaks Gujarati, Hindi, Spanish, and French.
How did your political science degree impact your career development?
"The political science faculty seemed to live such interesting lives through their research topics that I often walked away from a class thinking, "I want to be that 'whole' and interesting a person one day."  The gatekeepers to the degree inspired me to not be boring and to not make boring life and career choices. Northwestern offers its students so many opportunities outside of class to learn.  Without my year abroad in Chile or my undergraduate summer research grant in South Africa or the Fellowships Office pushing me to apply to fellowships following graduation, I'd probably have taken a different, and less fulfilling, career path."
What do you wish you knew as a student?
"I wish I had spent more time cultivating other parts of my brain and learning new material not to ace a test, but to remember it and use it in life.  Being well-rounded and well-versed on a range of topics helps you solve problems at work, form a wide range of rewarding professional and personal relationships, and work a room.  In the end, things turned out fine for me professionally but you will never have as much time as you did in college to explore new parts of your brain."
What was your first job out of college?
"I ended up in a rural Gujarati village near the border with Pakistan, developing a community-owned tourism project with a community whose rich culture could be shared to generate much-needed income.  This experience was so off-the-beaten-track and at times bizarre it made me question all my assumptions about the world and development.  It also taught me my strengths – there is nothing like being completely estranged from your normal life to teach you about yourself."