2022 Graduates & Award Recipients
The 2022 Undergraduate Celebration video will be released the week of June 20th.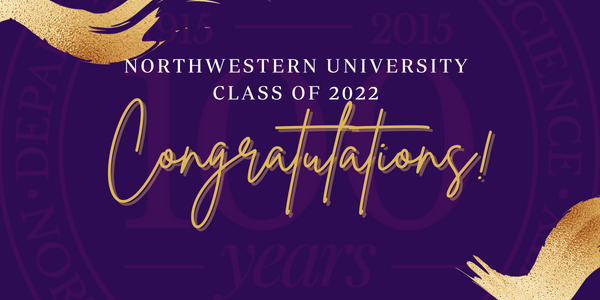 POLITICAL SCIENCE DEPARTMENT
AWARDS & Recognitions
Kenneth F. Janda Prize for Distinguished Honors Thesis in Political Science
This prize is in honor of Kenneth Janda, who taught in the Department of Political Science for 41 years. The Janda Prize is awarded for the best undergraduate honors thesis. The winner is selected by the Honors Committee and is based on the nominations and feedback received from the honors thesis readers.
Kelly Miller
American Oligarchy? Billionaires, Polarization, and Tax Policy in the 2020 Senate Elections
Advised by Dr. Benjamin Page, Gordon Scott Fulcher Professor of Decision Making
Andrew Myers (Honorable Mention)
The Rise of Zoom: Studying the Effectiveness of the Emerging Virtual Platform
Advised by Dr. James Druckman, Payson S. Wild Professor of Political Science
William M. McGovern Award for Academic Excellence, Leadership, and Citizenship
The McGovern Prize is in honor of William M. McGovern, who taught comparative politics and political theory in political science at Northwestern from 1929 until his death in 1964. In recognition for his devotion to his students and for making significant strides to enhance academic life in the Political Science Department, the McGovern Prize is awarded to an outstanding graduating political science major who has demonstrated excellence in scholarship, leadership, and University citizenship.
Nuo (Anor) Chen
During his time at Northwestern, Nuo served as the co-president of QUEST+, a student organization that serves first-generation, low-income students on campus. Nuo was also a member of Supplies for Dreams, which designs mentor-mentee relationships between Northwestern students and low-income Chicago Public School students.
R. Barry Farrell Prize for Academic Achievement in Political Science
Named for his outstanding commitment to undergraduate students both within and beyond the classroom, the R. Barry Farrell Prize for Academic Achievement in Political Science, a committee of faculty recognizes student(s) for the best-written undergraduate research seminar paper.
Harrison Tremarello
"Partisan Fragmentation, Information Flows, and La Familia Michoacana Violence in Michoacán, Mexico, 2006-2012".
Submitted to Professor Ana Arjona for Fall 2021's Non-State Armed Groups research seminar.
Joshua Ezrol
"Gerrymandering Strategy and Polarization: A Case Study Approach"
Submitted to Professor Laurel Harbridge-Yong for Fall 2021's Party Polarization research seminar.
Senior Marshal
The Department of Political Science chooses one graduating senior to carry the Department's banner at the Weinberg College Convocation. Nominations are submitted by graduating students and Political Science professors and chosen by the Undergraduate Program Committee.
Kelly Miller
---
Distinguished Accomplishments
\   Farrell Fellows  \
| | | |
| --- | --- | --- |
| Ece Agalar | Alex Jacobs | Zamone Perez |
| Zinya Salfiti | Scarlet Tianjiao Li | Sarah Elyse Richman |
| Alexandra Anderson | Kelly Miller | Mary Yang |
| Tyler Huang | Katica Hope O'Connor | Caleb Young |
\    Departmental Honors  \
| | | |
| --- | --- | --- |
| Catherine Buchaniec | Kelly Miller | Zamone Augustine Perez |
| Nuo (Anor) Chen | Andrew Myers | Georgia Schafer |
| Scarlet Tianjiao Li | Katica Hope O'Connor | Harry Xie |
\    Phi Beta Kappa  \
| | | |
| --- | --- | --- |
| Samy Abdelsalam | Juliet Jacques | Luther Snagel* |
| Nuo (Anor) Chen* | Colin Kruse | Caleb Young* |
| Anthony Inhorn | John Michael Magloire | |
| Alex Jacobs | Sarah Elyse Richman | |
*inducted as a Junior
\    Pi Sigma Alpha   \
| | | |
| --- | --- | --- |
| Samy Abdelsalam | Juliet Jacques | Luther Snagel* |
| Nuo (Anor) Chen | Colin Kruse | Caleb Young* |
| Anthony Inhorn | John Michael Magloire | |
| Alex Jacobs | Sarah Elyse Richman | |
\    Certificates of Achievement \
| | |
| --- | --- |
| Nuo (Anor) Chen, Foreign Language | Andrew Myers, Quantitative Skills |
| Kendall Lobo, Foreign Language | Katica Hope O'Connor, Quantitative Skills |
| Tyler Huang, Quantitative Skills | Eric Wang, Quantitative Skills |
\    Department Majors   \
| | | | |
| --- | --- | --- | --- |
| Samy Abdelsalam | Benjamin Fox | Ryan McNicholas | Matthew Shelton |
| Nicholas Abrahams | Meredith Fuentes | Caroline Megerian | Rinka Shimizu |
| Ece Agalar | Anne Grasse | Kelly Miller | Clara Siebert |
| Paul C. Albright | Miriam Guevara Hernandez | Jada Morgan | Rebecca Siems |
| Zinya Salfiti | Megan Gupta | Benjamin Moskow | Alexander Silverman |
| Alexandra Anderson | Chloe Hilles | Megan Munce | Anneliese Slamowitz |
| Nathan Ansell | Benjamin Hopper | Andrew Myers | Vivienne Sleigh |
| Sophia Artola | Arthur Horner | Joseph Nedder | Luther Snagel |
| Hannah Barton | Jake Horsfall | Katica Hope O'Connor | Baylor Spears |
| Michael Bearden | Tyler Huang | Olivia Olander | Samantha Stanley |
| Benjamin Bernstein | Anthony Inhorn | Mark Overby | Nicole Tank |
| Joseph Blanchard | Alex Jacobs | Nikolaos Papandreou | Chase Thede |
| John Harrison Blumenthal | Juliet Jacques | Giboom Park | Harrison Tremarello |
| Ian Braud | Yunkyo Moon-Kim | Zamone Perez | Madeline Trobman |
| Catherine Buchaniec | Nina Kissinger | James Pollard | Tyler Turk |
| Sebastian Caceres | Alexander Knapper | Ayesha Prashanth | Avi Varghese |
| Angelina Campanile | Victoria Kondrak | Adoria Randolph | Reilly Walsh |
| Alpesh Chapagai | Colin Kruse | Sarah Elyse Richman | Eric Wang |
| Nuo (Anor) Chen | Lillian Kurzydlo | Henry Rogers | John Wang |
| Pamela Chen | Sophie Lamb | Annie Ross | Greta Westman |
| Anastacia Chinonye Chineme | Virginia Langmaid | Jordyn Rudd | Marc Worden |
| Jae Yong Choi | Mariana Leone | Julian Sanchez | Harry Xie |
| Noah Cohen | Scarlet Tianjiao Li | Isabelle Shayna Sarraf | Mary Yang |
| Max Derbyshire | Ethan Lipka | Ruby Scanlon | Caleb Young |
| Zachary El Ghatit | Kendall Lobo | Noah Scantlebury | Nicole Zhang |
| Kristína Feiková | Daniella Lumpkin | Georgia Schafer | Avery Zimmerman |
| Sophia Feldman | John Michael Magloire | Katharine Schlager | |
| Zachary Flowers | David Marentic | Drew Schott | |
\   Department Minors  \
| | | | |
| --- | --- | --- | --- |
| Matthew Albert | Elizabeth Hora | Meagan Newlin | Frederick Tippett |
| Antonio Amram | Shengzhi Jia | Maxwell Olander | Jacqueline Touchet |
| Elena Andrews | Brendan Kaplan | İrem Özturan | Susana Vazquez |
| Pranav Baskar | Megan Lebowitz | Mitchell Price | Samantha Walters |
| Nora Chambers | Kevin Man | Joni Rosenberg | Leo Weldon |
| Georgios Hadjiminas | Zachary Jon Miller | Anna Rubin | |
| Shreya Chimpiri | Donna Mitria | Taylor Shineman | |
| Jackson Freilich | Narmeen Noorullah | Emma Soden | |