Sarah Moore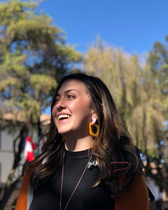 Scott Hall 105
Office Hours: Th 10:00 - 12:00
Program Area(s):  Methods; Comparative Politics
Regional Specialization(s):  Latin America
Dissertation Title:
Expanding the Multi-Method Toolkit: Essays on Mixed-Methods Solutions for Comparative Politics in Diverse and Developing Contexts
Dissertation Committee:  Ana Arjona (Chair), J. Seawright, Jordan Gans-Morse, Beth Tipton (Statistics)
Research Interests: Research methods in hard-to-reach contexts, civilian communities in conflict, land conflict, comparative political economy of development, the subnational state, Central and South America, Bayesian analysis, knowledge accumulation
Honors & Awards: 
Buffett Graduate Fellow (2021-2022), University of the Andes-Bogotá Pre-Doctoral Fellow 2019-2021 (Funded by Global Challenges Research Fund of UK)

Universidad de los Andes Predoctoral Fellow
Publications: 
Arjona, Ana and Sarah Moore. January 2023. "Comportamiento político y social en zonas con y sin presencia de grupos armados." Foco Económico Moore

Sarah and Kiran Stallone. March 2022. "In Colombia, abortion is no longer a crime. But rural women will still find it hard to get one." The Monkey Cage, Washington Post.