Hendrik Spruyt
Norman Dwight Harris Emeritus Professor of International Relations
Degree in Law: University of Leiden, 1977; Doctorandus: University of Leiden, 1983; M.A.: Ohio State University; Ph.D.: University of California, San Diego, 1991
Curriculum Vitae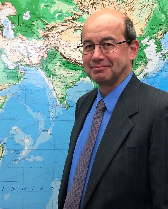 Office Hours: By appointment only.
Interests
Research Interest(s): Historical Sociology and International Relations; State Formation and Disintegration; International Systems and Regional Orders
Program Area(s): International Relations; Comparative Politics
Subfield Specialties: Comparative Historical Analysis
Biography
Professor Spruyt previously taught International Relations at Columbia University (1991-1999) and Arizona State University (1999-2003) before joining the faculty at Northwestern. He received a Doctorandus from the University of Leiden, School of Law, (The Netherlands) in 1983, and his Ph. D in Political Science from the University of California, San Diego in 1991. He was chair of the Department of Political Science at Northwestern from 2005-2008, and Director of the Buffett Center for International and Comparative Studies from 2008-2013. In addition he has been a visiting faculty member at Sciences Po, Cambridge, and LSE. Professor Spruyt has also served as co-editor of The Review of International Political Economy and has served on various editorial boards.
Books
The World Imagined: Collective Beliefs and Political Order in the Sinocentric, Islamic and Southeast Asian International Societies. Cambridge: Cambridge University Press, 2020.
With Miriam Elman, and Oded Haklai, co-editors, Democracy, Religion, and Conflict: the Dilemmas of Israel's Peacemaking. Syracuse:  Syracuse University Press, 2013.
With Alexander Cooley, co-author, Contracting States: Sovereign Transfers in International Politics. Princeton: Princeton University Press, 2009.
Global Horizons: An Introduction to International Relations. Toronto: University of Toronto Press, 2009.
Ending Empire: Contested Sovereignty and Territorial Partition.  Ithaca: Cornell University Press, 2005. (Runner up for the J. David Greenstone Award, American Political Science Association, August 2007).
The Sovereign State and Its Competitors: An Analysis of Systems Change. Princeton: Princeton University Press, 1994. (J. David Greenstone Award for best book in History and Politics 1994-1995.)
Select Publications
"Unbundling Sovereign Rights through Incomplete Contracting: Empowering European Transnational Networks beyond the State." In Reconfiguring European States in Crisis, Desmond King and Patrick Le Galès, eds. (

Corby: Oxford

 UP 2017)
"Economies and Economic Interaction across Eurasia in the Early Modern Period." In

The Globalization of International Society

, Tim Dunne and Christian Reus-Smit, eds. (Oxford: Oxford UP, 2017)
"War and State Formation: Amending the Bellicist Theory of State Making." In 

Does War Make States?Investigations of Charles Tilly's Historical Sociology

, Lars Kaspersen and Jeppe Strandsberg, eds. (Cambridge: Cambridge University Press, 2017.)
"The Emergence of Nation States." In Masamichi Sasaki, Jack Goldstone and Ekkart Zimmermann, editors. Concise Encyclopedia of Comparative Sociology, Leiden (Neth.): Brill, 2014, pp. 311-320.
"Empires, Past and Present: The Relevance of Empire as an Analytic Concept." In Noel Parker, editor. Empire and International Order. Farnham (UK): Ashgate, 2013.
"New Institutionalism and International Relations," in Ronen Palan, Global Political Economy, London: Routledge, 2012.
"Indonesia," in Richard Caplan editor, Exit Strategies and State Building.  Oxford University Press, 2012.
Courses taught
Introduction to International Relations (POS 240)
Globalization (POS 348)
Nationalism and Secession (POS 395)
International Relations Theory (POS 440)
International Security (POS 445)
Nation Building and State Formation (POS 490)
Back to top