Reuel Rogers
Associate Professor
B.A.: Brandeis University, 1990; Ph.D.: Princeton University, 2000
Curriculum Vitae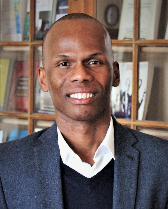 847-491-2644
Scott Hall 315
Office Hours: By appointment only.
Interests
Research Interest(s): Race; Ethnicity; Political Behavior; Public Opinion; African-American Politics; Urban Politics; Immigration; and Group Identity Politics
Program Area(s): American Politics
Regional Specialization(s): United States
Subfield Specialties: Public Opinion, Political Communication, and Political Participation; Race, Ethnicity and Politics
Joint Appointment
Latin American and Caribbean Studies
Biography
Professor Rogers' main interests are in American Politics. His research and teaching engage with questions about the intersection of race, ethnicity, immigration, place, and political behavior as well as with topics in public opinion and urban politics. His first book Afro-Caribbean Immigrants and the Politics of Incorporation explores how Caribbean-born blacks are changing and complicating black politics in New York City and the United States. The study closely analyzes how racial discrimination, bias, and stereotyping shape the group's political integration patterns. The book won best book awards from APSA's race, ethnicity, and politics section and urban politics section in 2007. Rogers has held fellowships with the Social Science Research Council, the Ford Foundation, and the Radcliffe Institute at Harvard University. He is currently at work on a new book on the politics of black suburbanization.
Books
Afro-Caribbean Immigrants and the Politics of Incorporation: Ethnicity, Exception, or Exit. Cambridge University Press; 1 edition (June 29, 2006).
Select Publications
"Using Interviews to Understand Racial Group Identity and Political Behavior," in Interview Research in Political Science, ed. Layna Mosley (Ithaca: Cornell University Press, 2013)
"Political Institutions and Rainbow Coalitions: Immigrant-Minority Relations in New York and Hartford," in The Future of Immigrant Political Incorporation: A Transatlantic Comparison, eds. Jennifer Hochschild and John Mollenkopf (Ithaca: Cornell University Press, 2009)
"Racial Solidarity and Political Participation," with Dennis Chong, Political Behavior 27 (2005)
"Race-Based Coalitions among Minority Groups: Afro-Caribbean Immigrants and African Americans in New York City," Urban Affairs Review, 39 (2004)
Courses taught
PS 221 Urban Politics
PS 327 African American Politics
PS 395 Racial Politics in American Cities
PS 490 Race and Political Behavior
Back to top