Jaime Dominguez
Associate Professor of Instruction
B.S.: University of California, San Diego, 1991; Ph.D.: University of Illinois-Chicago, 2007
Curriculum Vitae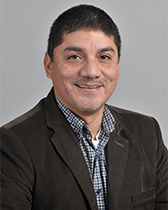 847-491-8916
1908 Sheridan Rd.
Office Hours: By appointment only.
Interests
Research Interest(s): Race and Ethnicity; Immigration; Urban Politics; Latino Politics; Chicago Politics
Program Area(s): American Politics
Regional Specialization(s): United States
Subfield Specialties: Race, Ethnicity and Politics
Biography
Jaime Dominguez is the principal architect of the Chicago Democracy Project (CDP), a thirty-year (1975-2005) online political database that measures policy outcomes for the City of Chicago. As a fellow at the UC Berkeley Building Resilient Regions Immigration Consortium, he examines contemporary immigrant integration initiatives from comparative frameworks. Professor Dominguez is also a frequent commentator for local and major news outlets including NPR, PBS, and the Huffington Post. He is affiliated with the American Politics Workshop and the Latino/a Studies Program at NU. He also directs the WCAS Posner Undergraduate Research Program. 
Select Publications
Illinois Latinos and the 2004 Elections: The Waiting Game Continues," in de la Garza, Leal and DeSipio's Beyond the Barrio: Latinos and the 2004 Elections (University of Notre Dame Press, 2008). 
"Divergent Strategies: Immigrant Politics in the Chicago Metro Area" in Mollenkopf and Pastor's Struggling Over Strangers or Receiving Them Resiliently? The Metropolitics of Immigrant Incorporation (Cornell University Press, 2015).
Courses taught
PSC 390 Redefining the Urban Paradigm
PSC 395 Latino Politics in the U.S.