Rana B. Khoury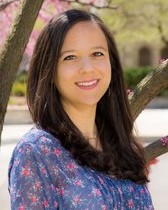 Program Area(s):  Comparative Politics; Methods
Regional Specialization(s):  Middle East
Dissertation Title:
Aid and Activism across the Syrian Warscape
Dissertation Committee:  Wendy Pearlman (Co-Chair), William Reno (Co-Chair), Jason Seawright, Ana Arjona
Research Interests: displacement; humanitarianism; contentious politics; methods; Middle East politics; American politics
Publications:
"Hard-to-Survey Populations and Respondent-Driven Sampling: Expanding the Political Science Toolbox," Perspectives on Politics, 2019.
"Aiding Activism? Humanitarianism's Impact on Mobilized Syrian Refugees in Jordan." Middle East Law and Governance 9(3): 267-281, 2017.
As Ohio Goes: Life in the Post-Recession Nation.

Kent, OH: Kent State University Press, 2016.

Review: "Counting Islam: Religion, Class, and Elections in Egypt by Tarek Masoud." Arab Studies Journal 24 (1):335-339, 2016.
"Sweet Tea and Cigarettes: A Taste of Refugee Life in Jordan." Forced Migration Review 49: 93-94. May 2015.
Review: "Refugees of the Revolution: Experiences of Palestinian Exile by Diana Allan." Journal of Refugee Studies 27(2): 305-307, 2014.
Honors & Awards: 
"Alexander L. George Article Award, Honorable Mention, APSA Organized Section for Qualitative and Multi-Method Research, for "Hard-to-Survey Populations and Respondent-Driven Sampling," 2020."
Minar Prize for Community Enrichment by a Graduate Student, Department of Political Science, Northwestern University, 2018
Independent Publisher Book Awards ("IPPY"), Bronze Medal, Current Events I, for As Ohio Goes, 2017
Creative Nonfiction Essay Prize, English Department, Northwestern University, for "On Shale and Chestnuts," 2014
Willard G. Oxtoby Essay Prize, The Graduate School, Georgetown University, for a paper on the Israel-Palestine Conflict, 2010
Amos Perlmutter Award for Excellence in Comparative Politics, School of Public Affairs, American University, 2008
Back to top