Nathalia Justo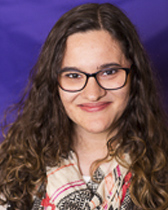 Program Area(s):  Political Theory; International Relations
Regional Specialization(s):  United States; Latin America
Dissertation Title:
THE GLOBAL POLITICS OF CITIZENSHIP: PRODUCING AND PROTECTING THE "DESERVING" SUBJECT
Dissertation Committee:  Elizabeth Shakman Hurd (Chair), Ian Hurd, Mary Dietz, Naeem Inayatullah
Research Interests
Global politics of citizenship; international law and migration; critical approaches to
international relations theory; interpretive methodologies in political science.
Conference Presentations
"The (un)deserving stateless: the morality of national identity in international law" in ISA 2022, March 2022.

"Between morality and responsibility: the limits of human rights and the limits of the human" in ISA Human Rights & Foreign Policy 2021, June 2021.

The limits of deservingness to address limits in law: a TPS story" in CRS & CERLAC 2021
Virtual Student Conference Recognition, Agency, and Deservingness: (Re)framing Refugee, Black, and Indigenous Movements, February 2021.
"Climate change, deservingness, and the limits in international law" in ISA Northeast Annual Conference 2020 - Transnationalism in World Politics: Beyond Methodological Nationalism in International Studies, November 2020.
"(Un)deserving Political Subjects: Entanglements and Detachments and the Limits of International Law" in Millennium: Journal of International Relations. 2020
Online Conference - Entanglements and Detachments in Global Politics, October 2020.
"The morality of migration: the national and its others in the United Nations (1945 -
1961)" at the conference Walls and Bridges: Migration and Its Histories, Nicholas D. Chabraja Center for Historical Studies, Northwestern University, April 2019.
"Tráfico de pessoas e demanda: o estereótipo da mulher brasileira e os valores sobre a prostituição" in Primer Congreso Latinoamericano sobre Tráfico y Trata de Personas, Centro de Investigación y Acción en Derechos Humanos y Desarrollo – CIADHUD, Buenos Aires, Argentina, June, 2008.
Workshop Presentations
1st New School Political Theory workshop in New York - "Autobiographies as political theory: selfhealing and modern subjectivity in Mill and Nietzsche", March 2020.
NU International Relations workshop - "The Brazilian State as Missionary: Differentiating Culture from Religion to Save Race", November 2018.
New School's Institute for Critical Social Inquiry (ICSI) – The Relevance of Hannah Arendt - "Storytelling and statelessness: an exploration of the human limit in the writings of Hannah Arendt," June 2018"
Publications
Honors and Awards
"Buffet Global Impacts Fellowship, Northwestern University, 2020-2021
Fellowship for Exchange Program at the École Normale Supérieure (ENS) - France, 2019-2020
Social Science Research Council/Northwestern - Dissertation Development Program, Summer 2018
The New School - fellowship for participation in the Institute for Critical Social Inquiry (ICSI) - The Relevance of Hannah Arendt, Summer 2018
Fellowship from the Brazilian National Council for Scientific and Technological Development (CNPQ), 2010-2012
UNCDC, WTO, Brazilian Ministry of Justice – Third place in the "Primeiro Prêmio Libertas -Enfrentamento ao Tráfico de Pessoas", 2008"
Back to top