David Peyton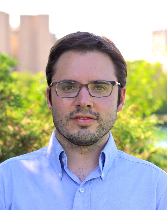 Program Area(s):  Comparative Politics; International Relations
Regional Specialization(s):  Africa
Dissertation Title:
Property Security in the Midst of Insecurity: Wealth Defense, Violence, and Institutional Lethargy in the Democratic Republic of Congo
Dissertation Committee:  William Reno (Chair), Jordan Gans-Morse, Rachel Riedl, Hendrik Spruyt
Project description:
My research analyzes the decision-making patterns and political relationships that condition levels of property security in contexts of weak states and insecurity. Why are some property owners capable of upholding their property claims in the face of acute expropriation attempts, while similarly situated owners fail entirely? I argue that property owners in weak states engage in "defensive coalition building," a process of selecting from a range of state and non-state actors to advance their ownership claims. My research finds that property owners who engage in sequential coalition building experience on average lower rates of expropriation than those who pursue alternative strategies of property protection. This outcome is driven by sequential coalition builders' ability to monopolize on the core strengths of multiple coalition partners and deploy them dynamically over time. A key finding is that the 'when' of coalition building is as important as the 'who.'
While defensive coalition building provides a rationale for secure ownership and economic investment in weak states, it also explains why fragmented authority and institutional heterogeneity are so persistent in them. Property owners' willingness to select between a variety of coalition partners reinforces multiple centers of public authority that overlap and compete. In this environment of competition and choice, a de-facto property rights regime emerges that is marked by an ever increasing number of property protection agents who have an incentive to prevent any single actor from monopolizing on authority over a valuable asset such as land. Drawing from historical institutionalist notions of path dependence, my study suggests that the institutional status quo becomes increasingly difficult to challenge as the number of coalition options increases. The effect of this equilibrium, on the one hand, is to secure the ownership claims of successful coalition builders, while, on the other hand, sustaining an institutional arrangement that produces suboptimal economic outcomes and encourages the use of private violence.
The conclusions drawn in my study are based on 20 cumulative months of fieldwork and an original survey of 1,700 households in four cities of eastern Democratic Republic of Congo (Beni, Bukavu, Butembo, and Goma), where conflict has fueled real estate speculation and the proliferation of non-state public authorities.
Publications:
Ebola Preparedness and Readiness in Goma, DRC. Social Science in Humanitarian Action (2019). With Ingrid Gercama and Juliet Bedford.
Wartime Speculation: Property Markets and Institutional Change in Eastern Congo's Urban Centers. Journal of Eastern African Studies Vol. 12, no. 2 (2018): 211-31.
Building Africa's Airlift Capacity: A Strategy for Enhancing Military Effectiveness. Africa Security Brief, no. 22 (August 2012). With Birame Diop and Gene McConville.
Research Profile
David M. Peyton is a Ph.D. candidate in the department of political science at Northwestern University, where he studies the politics of development, violent conflict, and international interventions in postcolonial states. His current research analyzes strategies of property protection in areas affected by intrastate war, focusing on urban centers in eastern Democratic Republic of Congo.
Prior to beginning his doctoral studies, he worked at the Africa Center for Strategic Studies in Washington, DC and served as a Tom Lantos Congressional Fellow in the office of Congressman Tom Perriello. David has also worked as a research associate at the Urwego-Opportunity Bank in Kigali, Rwanda, where he conducted market research on small and medium-sized enterprises in Africa's Great Lakes Region. He received a bachelor's degree in international relations from Wheaton College and is an alumnus of the school's Human Needs and Global Resources program. David is a senior fellow of Humanity in Action, a non-profit organization that promotes research and educational exchanges about human and minority rights in the United States and Europe.
Back to top