Richard Joseph
Professor Emeritus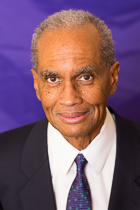 Interests
Research Interest(s): African Politics, Democratization, Political Economy, International Security
Program Area(s): Law and Politics; International Relations; Comparative Politics
Regional Specialization(s): Africa
Subfield Specialties: Conflict Studies
Biography
Richard Joseph previously taught at Emory University, Dartmouth College, the University of California at Los Angeles, the University of Ibadan (Nigeria), and the University of Khartoum (Sudan). He has held research fellowships at Harvard University, Boston University, the Massachusetts Institute of Technology, the Institute of Development Studies (Sussex, UK), Chr. Michelsen Institute (Norway), and the Ecole des Hautes Etudes en Sciences Sociales (France). Joseph has devoted his scholarly career to the study of politics and governance in Africa with a special focus on democratic transitions, state building and state collapse, and conflict resolution. He directed the African Governance Program at the Carter Center (1988-1994) and coordinated elections missions in Zambia (1991), Ghana (1992), and peace initiatives in Liberia (1991-1994). He has been a longtime member of the Council of Foreign Relations. Joseph is the recipient of numerous fellowships and awards including a Rhodes Scholarship, a Kent Fellowship, and a Guggenheim Fellowship. In 2002-03, he held visiting fellowships at the U.S. Institute of Peace and the National Endowment for Democracy. He was a Fulbright Scholar in France and a Fulbright Professor in Nigeria.
Books  
Radical Nationalism in Cameroun (1977)
Gaullist Africa: Cameroon Under Ahmadu Ahidjo (1978)
Democracy and Prebendal Politics in Nigeria (1987)
State, Conflict, and Democracy in Africa (1999)
Africa Demos series (1990-94)
Select Publications
"The Nigerian Paradox: Growth, Security, and Democracy in Africa," Journal of Democracy (August 2014)
"Africa's Predicament and Academe," The Chronicle of Higher Education (March 7, 2003).
"Africa: States in Crisisappeared," Journal of Democracy (July 2003).
Back to top