Jean Clipperton
Assistant Professor of Instruction
Ph.D.: University of Michigan, 2016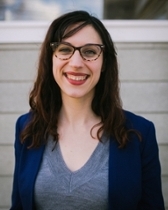 847-467-7443
Scott Hall 021
Office Hours: By appointment only.
Interests
Research Interest(s): European Union; Comparative Law
Program Area(s): Methods; Comparative Politics
Regional Specialization(s): Europe
Joint Appointment
Biography
Clipperton's research focuses upon institutional design and change, problem-solving, and pedagogy/teaching and learning. Her recent work has focused upon gender in the discipline of political science. Her research incorporates ideas and approaches from political science, complex systems, and social sciences more generally. Her current projects are focused upon project-based learning designs in the application of problem-based learning.
Publications
Alter, K., Clipperton, J., Schraudenbach, E., & Rozier, L. (2020). Gender and Status in American Political Science: Who Determines Whether a Scholar Is Noteworthy? Perspectives on Politics, 1-20.
Alternative Final Assignment Format Tips and Tools, guest blog post with NU Digital Learning Fall 2020
Increasing Zoom Engagement, guest blog post with NU Digital Learning Fall 2020
Science of Teaching and Learning (APSA Preprints (Working Paper)) Winter 2020
Alternative Final Assignment Formats, guest blog post with NU Digital Learning Spring 2019
Incorporating Student Feedback, guest blog post with NU Digital Learning Winter 2019
Improving your Course, guest blog post with NU Digital Learning Fall 2018
Awards
Associated Student Government Faculty and Administrator Honor Roll, 2020
R. Barry Farrell Faculty Award for Excellence in Curriculum Development, Department of Political Science, 2020
R. Barry Farrell Teaching Award for Excellence in Undergraduate Teaching, Department of Political Science, 2020
Weinberg College Arts and Sciences Alumni Teaching Award: college-wide award awarded to instructional faculty, 2020
 Departmental teaching award for Innovation in undergraduate curriculum development, Department of Political Science, 2018
Courses taught
Introduction to Probability and Statistics (PS 403)
Introduction to Statistics and Statistical Software (Soc 400)
Introduction to Empirical Methods (PS 210)
Formal Models in Political Science (MMSS 211-3)
Institutions and Society (Soc 288/PS 388)
Analytics to Social Good (SOC 365 – cross-listed with IEMS 365)
Analysis of Social Data (Soc 303)
Back to top